Browsing articles in "September"
We are falling in love with so many of our newest arrivals but one in particular stands out…
the jumpsuit!
But first a little jumpsuit style inspiration for you…just in case you are thinking,
"Jumpsuit, really?"
Don't you agree?
Chic, easy, dress it up, dress it down – all in all, pretty fabulous!
If you, too, are feeling a little jumpsuit inspried,
we have 2 styles to choose from – a long sleeve option in black from Ulla Johnson or a fun little one shoulder suit from Ramy Brook (in black or deep aubergine).
OPEN:
Monday – Wednesday – Friday
10 a.m. – 3 p.m.
And we will!
For we will be donating 10% of Wednesday's sales to Molly Waller and her battle against breast cancer.
But don't worry – if you just don't have time to shop (or just shopped with us recently), we will have a way for you to join in the cause.
Just stop by and add a little something to our "tip" jar for Molly –
all that is collected will be added in with our 10% and donated to a fund that will help Molly & her husband with her medical expenses.
Thank you as always for your support!
XO,
Joanna & Anne Walker
OPEN:
Wednesday & Friday
10 a.m. – 3 p.m.
If you missed Monday's post about Molly's story – you can read more about it here.
It's time for a little newsy news….
First, we are CLOSED Monday, September 1 in honor of Labor Day.
Second, when we open on Wednesday we are having a fund raiser!
Here's the story that inspired us…
So, we have decided to join in the fundraising efforts and on
Wednesday
we will be
donating 10% of our day's sales
to help Molly Waller and her fight against breast cancer.
Come by to help us help Molly!
OPEN:
Wednesday & Friday
10 a.m. – 3 p.m.
As we pause and remember this past week, we want to say thank you to all of you who came in this week.
And not just for coming in but for laughing with us through all the crazy –
And if you were in the store this week, then you know…
we were crazy!
And so, we  thank you –
not only for your support but your ability to laugh with us and have patience with us as play catch up after being gone!
We are lucky, lucky girls!
And if you haven't made it in recently, come on by!
We are here…
OPEN:
Monday – Wednesday – Friday
10 a.m. – 3 p.m.
image via
We are home!
After a fun-filled week in NYC shopping for Spring 2014, we are home and excited to get back in the store!
There's nothing quite like a week in the Big City to inspire you –
the fashion, the energy, the culinary delights, the weather – all of it!
And speaking of culinary delights, Red Farm, 
(recommended to us by one of our favorite designers, Sharon Lavi, of Nieves Lavi)
was delightful indeed!
So, we come home well fed, refreshed, and ready for fall!
 Lucky for us, the weather has finally decided to cooperate and bring us some cooler temperatures!  We couldn't ask for more!
Which is a good thing because we came home to boxes, upon boxes from:
Elizabeth & James, ALC, Equipment, Nieves Lavi, Yoana Baraschi & Ulla Johnson
In fact, one of our deliveries includes wonderful new books – perfect for gifting – and very timely considering our recent trip!
Fashion Insiders' Guide 
New York City
by French Vogue Corespondent Carole Sabas
So, come by to say hi and see what's new!
OPEN:
Monday – Wednesday – Friday
10 a.m. – 3 p.m.
book photos via
all other photos via our instagram
And we do!!!
Happy Friday!
OPEN:
Monday – Wednesday – Friday
10 a.m. – 3 p.m.
We are glad you have found us!
OPEN:
Monday – Wednesday – Friday
10 a.m. – 3 p.m.
Why, yes, you are!
Great new arrivals this week:
Clare Vivier, Koch, Equipment, DL1961, Lele Sadoughi, Haute Hippie
OPEN:
Monday – Wednesday – Friday
10 a.m. – 3 p.m.
If you made it by the 360Sweater trunk show on Wednesday then you know just how crazy it was in here.
What an amazing turn out –
thank you!  
We fell in love with the line and thought you would too…
so glad we were right!
But, if you didn't make it by we have some good news for you –
we have great pieces in stock right now and more on the way to arrive next week.
So, if you are intrigued and want to know more about 360Sweater – come by today to see what we have in stock and we can show you what's on the way.
We are taking pre-orders for the pieces that are coming in.  The way pieces were flying out on Wednesday we don't think they are going to last long!
There are great sweaters for yourself and some really fun gift options too!
We don't want you to miss out!
OPEN:
Monday – Wednesday – Friday
10 a.m. – 3 p.m.
Growing up in the 70's,  it's hard not to be taken back to our childhoods at the mere mention of the iconic fashion label Halston – the first great American designer.
And we are so excited to be bringing Halston Heritage to you for fall 2012.  While the designs are new – the signature style is still there – beautiful draping, classic tailoring, one shoulder glamour, elegant halters and of course, sleek jumpsuits.  The line is gorgeous…the epitome of modern day glamour!
So…what's this new delivery??  Here's a little peek at a few of the styles that we have in:
a black wool jersey dress with brown leather detailing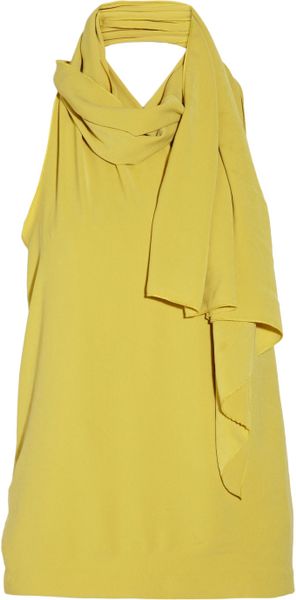 chartreuse draped crepe top
black jumpsuit
Just look at how darling Rose Bryne looks in her Halston jumpsuit!
We are open
MONDAY – WEDNESDAY – FRIDAY
10 a.m. – 3 p.m.
STORE HOURS:
New Hours:
Monday THRU Friday
10 - 3
New Location:
5109 Pershing Ave.
Fort Worth, 76107
New phone:
817-862-7466
youareherefw@gmail.com
GET EMAIL UPDATES!
Here We Are