Browsing articles in "December"
The Little Black Dress…
effortless, classic, always perfection!
Do you have the perfect little black dress in your closet?
If not, come by to see us!  We have gorgeous dresses in from
Louiza Babouryan, Getting Back to Square One, & Blaque Label
that just might be the perfect L.B.D for all your holiday (and beyond) needs!
OPEN:
Monday – Wednesday – Friday
10 a.m. – 3 p.m.
As this football season comes to a close, we are all hopeful that the hometown froggies will secure a spot in the playoffs!
But there is one last game of the season to be played!
So, if you are going to the game this Saturday, you need to brush off your best purple gear and be ready to cheer!
And if you are looking for a little something new in the purple department, well, we are here to help!
Whether you are looking for a few fun accessories to brighten up your game day gear…
Or looking for a whole new look….
We've got your covered!
And we haven't even forgotten about the boys in our lives…
We've got a little something for everyone so we can cheer on the frogs in style!
GO FROGS!
OPEN:
Monday – Wednesday – Friday
10 a.m. – 3 p.m.
+
BONUS HOURS:
Saturday
10 a.m. – 3 p.m.
all photos via our instagram.
How lucky we are to be surrounded by so many good people…
like YOU!
Thank you!
XO,
Joanna & Anne Walker
OPEN:
Monday – Wednesday – Friday
10 a.m. – 3 p.m.
+
BONUS HOURS:
Saturday
10 a.m. – 3 p.m.
Marie Laure Chamorel
After training with some of the top designers, from Alaia to Balmain and Kenzo, and having graduated from the Duperré School of Applied Arts in Paris, Marie Laure Chamorel decided to focus her energies upon her own label of luxury accessories which bears her name since 2006.
Marie Laure is driven by a desire to give each piece of jewelry its own unique spirit. Her inspiration goes beyond the boundaries of the pre-established fashions. She seeks out vintage pearls, ribbons, and old lace. These basic elements undergo a transformation, blending couture and jewelry, as she enriches them with hand embroidery and wraps pearls in muslin, silk and leather.
Marie Laure's jewelry embodies the latest in artisanal luxury, a love for the hand-made.
The collection we have brought to you includes amazing chain fringe necklace, layering bracelets & sparkling chain fringe earrings.
It's a line that really must be seen in person!
OPEN:
Monday – Wednesday – Friday
10 a.m. – 3 p.m.
Don't know about ya'll,  but this cold, icy weather has us in the mood to stay home and do the following…(in no particular order)
 light a fire
 make some chili
 watch the kiddos sled down the hill
 eat chili
 work a puzzle
 eat more chili
 grab a blanket and read a book
 have a glass of wine or hot chocolate?…probably wine
 bake some cookies
 grab just a little more chili…hope those jeans fit on monday!
Store won't be open today after all…
but there is always next week!
MONDAY – WEDNESDAY – FRIDAY – SATURDAY
10-3
Assuming there isn't a major icing event we will be here!
OPEN:
Monay – Wednesday – Friday
10 a.m. – 3 p.m.
And don't forget we will also be
OPEN
Saturday
10 a.m. – 3 p.m.
Stay warm!
XO,
Joanna & Anne Walker
image via
Ok, so the air may not exactly feel like Christmas.  It looks like we have another mild week ahead of us as we count down the last few days before Christmas.  But don't let that fool you…if the weather watchers are right it will be warm right up until Christmas Eve and then maybe, just maybe, it will be a chilly Christmas morn!  So, for now, while there are still errands to be run & parties to attend, we offer a little mild weather fashion inspiration for you.
For the more casual things on the list…boyfriend jeans, fun flats, and a lightweight knit…and don't forget an amazing clutch to add some sass!
Love the red jeans, easy white top, fringe boots and the clutch…all fabulous!
This look is darling for those mild days ahead – jeans, white tee and scarf…easy!
Samantha of Could I Have That is a favorite source for outfit/fashion inspiration.   And in this photo…she doesn't disappoint.  She looks darling in her black shorts and Equipment top.  We are huge fans of the Equipment line (you may have guessed that already…smile!) but when something is stylish, comfortable and easy…can you blame us?
And speaking of Equipment…we have just recieved this darling snake "tee"!  Throw it on with some jeans…easy or dress it up with a great black pant or leather leggings for an evening out.
For your dressier events, take some inspiration from Victoria Beckham.  She looks amazingly chic in her skinny black pants and white silk blouse…simplicity and sophistication.
Feeling inspired?  We have so many of these pieces to help you put looks together like all of the ones listed above.  Boyfriend jeans from Current/Elliot, darling burgundy studded flats and fringe boots from Lola Cruz, a big selection of Equipment tops, loads of great tees from Splendid and fluxus,  and of course some great dressy separates perfect for any occasion!
We should also mention we have some deals & steals in our markdowns and great gifts but remember, we are
open just 2 more days before we break for the holidays
so come on by!
OPEN:
Monday – Wednesday – Friday
10 a.m. – 3 p.m.
If you are anything like us you are still gift shopping and will probably be doing so until the very last minute!
And if that is the case…we have some great gift ideas for you.  Best part…all of these gift ideas are under $50!
Let's start with these great glass & silicone water (or whatever liquid you so choose) bottles by bkr.  The colors are amazing but more important your water won't get that funky taste from whatever it is that other, lesser fabulous bottles are made of.  When you are at home you drink from a glass…why not drink from a glass while on the go?  And at $28…it's kind of a no brainer!
A favorite from last year and a favorite again this year…the nomad scarf ($48)!  Really,  we can't get enough of this one – perfect as a scarf, great for the traveler (it's so big it can double as a blanket), and it feels as soft as your favorite tee shirt!  We have lots of great colors in stock and ready to be wrapped up!
And Oprah loves it too!
These little coin purses ($18) are darling on their own or the perfect wrapping to hold a gift card!
This cult-favorite…Rosebud Salve.  It's the multi-purpose lip balm that soothes dry lips, calms and heals irritation, and soothes the sting of minor burns. Who couldn't use that?  We have 4 different varieties to choose from and at $6-$7,  it makes a great little stocking stuffer!
Remember,  this is our last week open before we break for the holidays!  So, now's the time!
OPEN:
Monday – Wednesday – Friday 
10 a.m. – 3 p.m. 
The Guys Shopping Night is tomorrow (Thursday) night 4-7 pm.  
Have you made your wishlist?
We have!
We have been putting together our very own little wishlists for those special somebodies in our lives and here's a little peek…
On Anne Walker's wishlist (and in no particular order)…
This scarf by We Are Owls.
The colors are amazing.  And seriously what wife wouldn't love getting this from her husband…hint, hint, Chris…are you listening?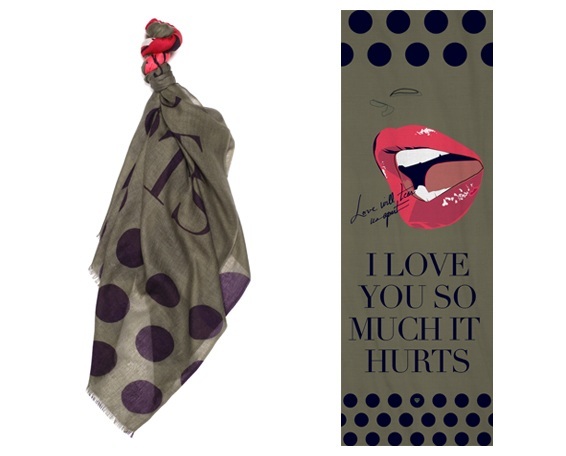 The Presmer python clutch…in any color but I think navy is my favorite.  A classic clutch in a classic color – a must have!
And because I have never met a blazer that I didn't fall in love with…I must add this little cutie to the list!
PS – this new arrival from Tracy Reese was delivered to the store yesterday while we were there taking these photos – so it is straight from the box and on to my list!  And I will take the Ramy Brook silk halter too to go with…just to complete the look!
And now, on to the jewelry…the jewelry part of my list goes on and on but I will spare you and will only list a few here.
Some new arrivals from San Francisco jewelry designer, Lulu are on the list.  Either of these darling little layering necklaces and any of those rings…please!
Also, from Lulu, I am loving these little stacking rings…
Another Lily Gray piece…I am not picky, any will do!
Or any of these great layering necklaces…(top) from Lulu (all others) from Three Bishops
What list would be complete without at least a few diamonds??  And so for the sparkle on my list…
This little diamond heart set by Ariel Gordon…
one for me and one to give a away…my mom??  the girls??  many options.
And last but certainly not least…The Woods, of course!  Small ivory beads with rose cut diamonds…a girl can dream!
So, come on by to make your own little list and tell your guy that we are here to help!
Stay tuned for Joanna's Wishlist on the next post…
OPEN:
Monday – Wednesday – Friday
10 a.m. – 3 p.m.
AND
The Guys Shopping Night
Thursday, December 13th
4-7 pm.  
Time to grab your warmest knits and bundle up because…
It's a perfect day for…
a cozy knit…
skinny jeans or leggings
and tall boots!
This look looks great on Kate Hudson and would be darling on you too!
In Other News…….
We should mention we have some great SALE items!
There are some really great pieces on markdown…and all are at LEAST 40% off.
OPEN:
Monday – Wednesday – Friday
10 a.m. – 3 p.m.
AND
Don't forget to make your wishlist and to tell the guy in your life about the
Guys ONLY Shopping Night
Thursday, December 13
4-7 p.m.
STORE HOURS:
New Hours:
Monday THRU Friday
10 - 3
New Location:
5109 Pershing Ave.
Fort Worth, 76107
New phone:
817-862-7466
youareherefw@gmail.com
GET EMAIL UPDATES!
Here We Are