Browsing articles in "April"
We are so excited to be bringing in a new line for us!
So, today we introduce you to…
Nili Lotan is a New York-based designer, born in Israel. She moved to New York in 1980 and has worked as a senior design director for several leading fashion companies including Ralph Lauren and Nautica.
In 2003, after a long successful career in the fashion industry, she launched her own collection under the Nili Lotan label.
Nili's simple design philosophy is pure and sophisticated.A woman's wardrobe should reflect her lifestyle and function as an extension of who she is. Her vision is married to theidea that style comes from within and is experiential. This style mantra is the foundation upon which her collections are laid and through this approach, Nili identifies and defines the needs of the modern urban woman.
Her line is as gorgeous and super chic as she is.
Some of our favorite pieces from the line include,
but are not limited to…
this easy little linen tee shirt dress…
And this loose fitting top that would be perfect with little shorts and some K.Jacques sandals.
Great cotton pants in a washed black (although shown below in navy) that would go with everything!
The ease and classic simplicity is hard to capture in a photo but believe us when we say the line is great and are the perfect foundation pieces to get your spring/summer wardrobe freshened up and ready for the warmer temps ahead.
OPEN:
Monday – Wednesday – Friday
10 a.m. – 3 p.m.
OPEN:
Monday – Wednesday – Friday
10 a.m. – 3 p.m.
Well, like Fashion Icon!
We love these fabulous ladies and all their style!
A little mother/daughter or son fashion inspiration for you as we head into Mother's Day Weekend!
And speaking of Mother's Day…
We have many great gifts in the store right now for the Mom in your life so come by to say hi and see what's new.  So much new jewelry we don't even know where to begin!
OPEN:
Monday – Wednesday – Friday
10 a.m. – 3 p.m.
+
Bonus hours!
Saturday
10 a.m. – 3 p.m.
We have been anxiously awaiting our order from Lemlem and finally, it is here!
But first a little background on the line:
Supermodel / actress and former World Health Organisation's Goodwill Ambassador for Maternal, Newborn and Child Health, Liya Kebede discovered that traditional weavers in her native country of Ethiopia were losing their jobs due to a decline in local demand for their goods and wanted to do something about it. Recognizing the beauty, quality and historic significance of their work, Liya started Lemlem in 2007 as a way to inspire economic independence in her native country and to preserve the art of weaving.
Today, Lemlem, which means to flourish or bloom in Amharic, is thriving. Thank you to those who support this handcrafted collection of women's and children's clothing, while helping preserve an ancient art form.
And the line is as gorgeous as the founder herself!
It's easy, it's breezy, it's a great cause, it's everything!
Come by to see for yourself!
OPEN:
Monday – Wednesday – Friday
10 a.m. – 3 p.m.
+
BONUS HOURS:
Saturday 
10 a.m. – 3 p.m.
Picture this…
We get in 4 great shirts.
Over the next few days 3 of the shirts go home with lovely shoppers. Yeah!
But then, the last little guy, is left.
Which shouldn't be a problem, right?  After all, it's a great shirt.  But the strange thing is when only one of something is left it is like it becomes invisible.
And so, we have decided to bring these little lonely guys out into the spotlight and help them find a home!
So, here's the deal…
1.  Follow us on Instagram
(We aren't trying to be difficult by giving you one more thing to do but really it is the easiest way for us to pick an item and make spur of the moment decisions about who and how many little lonely guys will be featured).
2.  Check your Instagram for all the details about the item – price, discount, size.
3.  And then come on by to snag a great deal and give a well deserving item a great home!
Easy!
OPEN:
Monday – Wednesday – Friday
10 a.m. – 3 p.m.
You know we love Olivia Palermo's style and this look is no exception.
And if you do too,
we have all the pieces you need to create this look for yourself:
Giada Forte: mesh sweatshirt
Current/Elliott: distressed jeans
Goldhawk: silk camisole
Alkemie: cool cuffs
But that's not all…
New arrivals this week:
A.L.C., DL1961, Current/Elliott, Equipment, & Clare Vivier
OPEN:
Monday – Wednesday – Friday
10 a.m. – 3 p.m.
image via
We laugh regularly around here as we fall in love with yet another great button down that we just have to have for the store (or our closets)!
Really, you can never have enough great button downs in your closet.   They are the queens in the world of wardrobe multi-tasking.
From casual run around style…
to out on the town…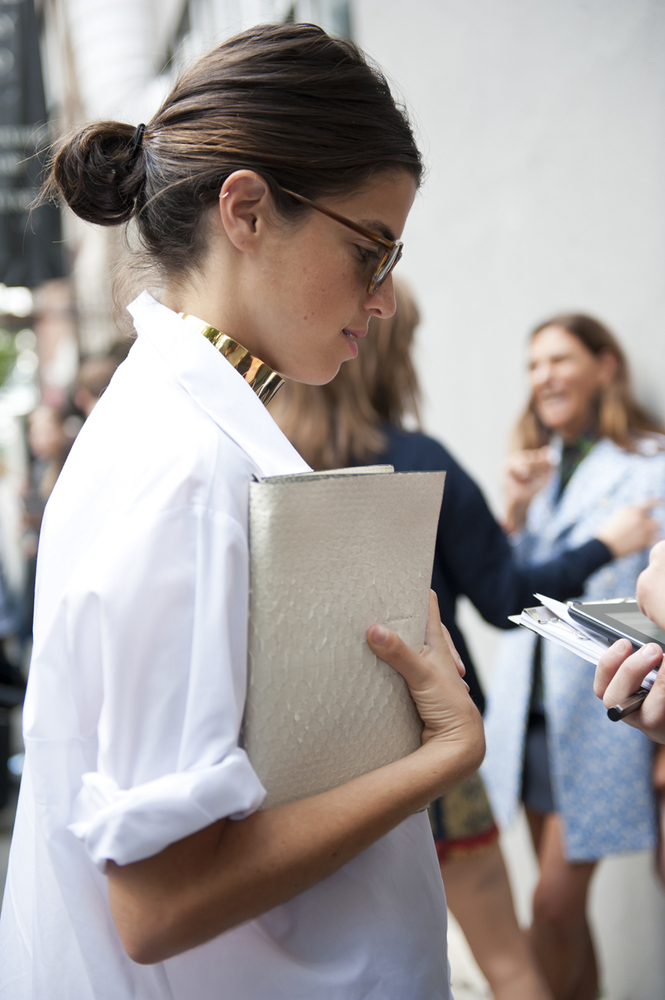 from the city…
to the beach…
This hardworking staple is a girl's best friend!
Need an new button down?  We've got you covered!
OPEN:
Monday – Wednesday – Friday
10 a.m. – 3 p.m
+
BONUS hours
Saturday 
10 a.m. – 3 p.m.
OPEN:
Monday – Wednesday – Friday
10 a.m. – 3 p.m.
+
Bonus hours:
Saturday
10 a.m. – 3 p.m.
So, we've been thinking…
and we have an idea!
How about we give Saturdays a go?
Maybe not every Saturday but at least a few Saturdays and see if we are missing something…
So, we are giving it a try and will be
OPEN
Saturday, April 26
10 a.m. – 3 p.m.
If you have been trying to make it by and Saturday is your day to shop, put us on your Saturday to do list and come by to say hi!
But if you need a little You Are Here fix before Saturday, no worries, we are HERE!
Monday – Wednesday – Friday
10 a.m. – 3 p.m.
Why yes, there are!
Happy Friday!
OPEN:
Monday – Wednesday – Friday
10 a.m. – 3 p.m.
STORE HOURS:
New Hours:
Monday THRU Friday
10 - 3
New Location:
5109 Pershing Ave.
Fort Worth, 76107
New phone:
817-862-7466
youareherefw@gmail.com
GET EMAIL UPDATES!
Here We Are