Browsing articles from "December, 2012"
As the year 2012 comes rapidly to a close, we are making our lists of things to do to start 2013 off right…
Some of the not so glamorous but necessary things to do include: paperwork and organizing!
So, we have decided to meet up at the store TODAY from 11 a.m -2 p.m. to do a little "work".
And you know our rule….
If we are here, we are OPEN!
Things might be a bit out of place as we re-organize to be ready for when we re-open for reals with our "regular" hours January 7 (stay tuned for more info on that!), but for TODAY (11 a.m. – 2 p.m.) we are here and we would love to see you!
So, if you need a little shopping fix…if you need something to wear for your NYE outing….or if you just need to get out of the house for a little diversion….whatever the reason, (as if we ever need a reason to shop) we are here!
And then when the work is done, we will go home and get ready to ring in the New Year!  And, while our plans for ringing in 2013 may differ, one sentiment is the same:
So bring it on 2013…we are ready for you!
Wishing you a very Merry Christmas!
XO,
Joanna & Anne Walker
image from here.
Up first,   the Newsy News:
1.  We are OPEN today (Friday, December 21st) 10 a.m. – 4:30 p.m. (???)
2.  We are CLOSED for some major family time and holiday style R&R until Monday, January 7
BUT
We will be popping in the store from time to time to get some work done while we are "closed" and we will let you know when we are there in case you are needing a little YAH retail therapy!  Stay tuned for those announcements…
And now for the WTW (What To Wear) Holiday Edition…
Between now and January 7 there is so much to celebrate and we want to make sure you are ready!  We know that these events will be all over the map (maybe even literally) from dressy to super casual so we offer a little inspiration…
Julie, of Sincerely Jules has amazing style and we thrilled to see her sporting these darling JBrand textured/waxy jeans that we have in the store!   They look great on her, of course, paired with shades of grey but they also look fabulous black, ivory, gold…you will be surprised just how many things you have that will look fresh and new when paired with these lovelies.
And in case you haven't heard, Emerald is the pantone color of 2013.
Cozy knits paired with sleek satin pants…
Ivory dinner jacket paired with black skinnies and a fabulous scarf…
We have all the pieces you would need to create these looks for yourself.
And last but certainly not least…the Why Not??? portion of today's post…
You may have noticed above we have extended our hours for today and that is because today at 3:00 (maybe even earlier…..our arms are easily twisted!) we will be popping some prosecco for a little Holiday cheer!  This is our way to say Merry, Merry to you, our loyal and fabulous shoppers, followers and friends!  So, whether you are still shopping or not (good for you!)…come on by for a little toast.  We would love to see you!
We are open:
today
10-4:30ish
Ok, so the air may not exactly feel like Christmas.  It looks like we have another mild week ahead of us as we count down the last few days before Christmas.  But don't let that fool you…if the weather watchers are right it will be warm right up until Christmas Eve and then maybe, just maybe, it will be a chilly Christmas morn!  So, for now, while there are still errands to be run & parties to attend, we offer a little mild weather fashion inspiration for you.
For the more casual things on the list…boyfriend jeans, fun flats, and a lightweight knit…and don't forget an amazing clutch to add some sass!
Love the red jeans, easy white top, fringe boots and the clutch…all fabulous!
This look is darling for those mild days ahead – jeans, white tee and scarf…easy!
Samantha of Could I Have That is a favorite source for outfit/fashion inspiration.   And in this photo…she doesn't disappoint.  She looks darling in her black shorts and Equipment top.  We are huge fans of the Equipment line (you may have guessed that already…smile!) but when something is stylish, comfortable and easy…can you blame us?
And speaking of Equipment…we have just recieved this darling snake "tee"!  Throw it on with some jeans…easy or dress it up with a great black pant or leather leggings for an evening out.
For your dressier events, take some inspiration from Victoria Beckham.  She looks amazingly chic in her skinny black pants and white silk blouse…simplicity and sophistication.
Feeling inspired?  We have so many of these pieces to help you put looks together like all of the ones listed above.  Boyfriend jeans from Current/Elliot, darling burgundy studded flats and fringe boots from Lola Cruz, a big selection of Equipment tops, loads of great tees from Splendid and fluxus,  and of course some great dressy separates perfect for any occasion!
We should also mention we have some deals & steals in our markdowns and great gifts but remember, we are
open just 2 more days before we break for the holidays
so come on by!
OPEN:
Monday – Wednesday – Friday
10 a.m. – 3 p.m.
If you are anything like us you are still gift shopping and will probably be doing so until the very last minute!
And if that is the case…we have some great gift ideas for you.  Best part…all of these gift ideas are under $50!
Let's start with these great glass & silicone water (or whatever liquid you so choose) bottles by bkr.  The colors are amazing but more important your water won't get that funky taste from whatever it is that other, lesser fabulous bottles are made of.  When you are at home you drink from a glass…why not drink from a glass while on the go?  And at $28…it's kind of a no brainer!
A favorite from last year and a favorite again this year…the nomad scarf ($48)!  Really,  we can't get enough of this one – perfect as a scarf, great for the traveler (it's so big it can double as a blanket), and it feels as soft as your favorite tee shirt!  We have lots of great colors in stock and ready to be wrapped up!
And Oprah loves it too!
These little coin purses ($18) are darling on their own or the perfect wrapping to hold a gift card!
This cult-favorite…Rosebud Salve.  It's the multi-purpose lip balm that soothes dry lips, calms and heals irritation, and soothes the sting of minor burns. Who couldn't use that?  We have 4 different varieties to choose from and at $6-$7,  it makes a great little stocking stuffer!
Remember,  this is our last week open before we break for the holidays!  So, now's the time!
OPEN:
Monday – Wednesday – Friday 
10 a.m. – 3 p.m. 
We feel like there is just so much to we want to let you know…
1.  We are OPEN today (Friday) and next week Monday – Wednesday – Friday 10 – 3.
2.  We have lots of great GIFT items.
2.  We will be CLOSED the week of the 23rd.
3.  We have TONS of great new markdowns.
So, now is the time to come and shop!
Each year at Christmas, alot of our darling hubbies find themselves in one or all of a few different situations….."what should i get her?"  or "hope this is what she was talking about" and the even worse  "oh no,  is it really only 3 days away???"  Even after hearing all of those not so subtle hints, it is still a challenge.  One that I do not envy.  This is make or break time for those guys…a chance to bring a smile to our face that can light up the room!
Well,  we think we should make it a little easier on those sweethearts of ours….my hints – not so subtle!  I am even providing pictures! I know you may be thinking that this is kinda silly considering that we are talking about items from our own store,  but how nice would it be to have that awesome surprise?   So,  here ya go honey….have at it!
Hmmmmm……what's on Joanna's list?
Well, I am sure it will come as no surprise that my list is totally made up of jewelry and handbags!  Those of you who know me know that i am a sucker for a beautiful bauble and have rarely met a handbag i don't love! This year is no exception…
This gorgeous piece from The Woods would be a beautiful addition…did you see the clasp even has diamonds?  Wowzers…can't handle it!
Then there are these amazing cuffs from Alchemie…which one?  Either one really.  Love em both!
I too am a huge fan of these great stacking rings from Lulu Designs…
These clutches from Samantha Grisdale…love them all.
Especially this little tan one in front.  I have nothing like it.  Really.  No, I'm serious.  Promise.
And last, but certianly not least…this little python number from Presmer.  I have had my eye on these bags since we started carrying the line last spring and have resisted.  Waiting for the perfect one.  This is it!  Love it.
So,  there it is….my list.  Can I live without one of these amazing items?  Of course!  Do I want to?  No,  not so much.
Have you made yours?  Have you been dropping those subtle or not so subtle hints??
Even if you haven't,  send those darling hubbies of yours into the store today!  
We can help them find the perfect little something for you!  Just tell them to stop by,  grab a beer and let us help them help you have a Christmas that's Merry & Bright!
Guys Shopping Night
Thursday 4-7
The Guys Shopping Night is tomorrow (Thursday) night 4-7 pm.  
Have you made your wishlist?
We have!
We have been putting together our very own little wishlists for those special somebodies in our lives and here's a little peek…
On Anne Walker's wishlist (and in no particular order)…
This scarf by We Are Owls.
The colors are amazing.  And seriously what wife wouldn't love getting this from her husband…hint, hint, Chris…are you listening?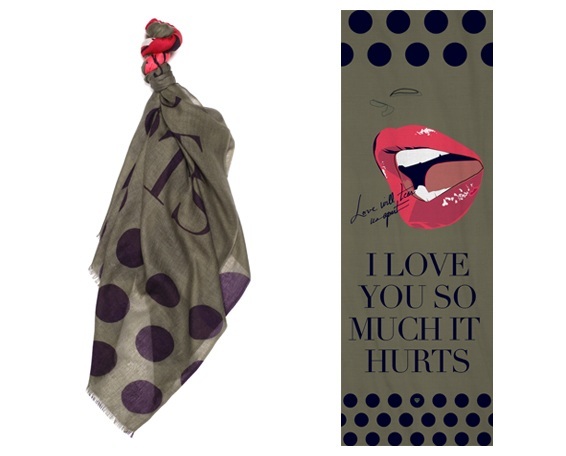 The Presmer python clutch…in any color but I think navy is my favorite.  A classic clutch in a classic color – a must have!
And because I have never met a blazer that I didn't fall in love with…I must add this little cutie to the list!
PS – this new arrival from Tracy Reese was delivered to the store yesterday while we were there taking these photos – so it is straight from the box and on to my list!  And I will take the Ramy Brook silk halter too to go with…just to complete the look!
And now, on to the jewelry…the jewelry part of my list goes on and on but I will spare you and will only list a few here.
Some new arrivals from San Francisco jewelry designer, Lulu are on the list.  Either of these darling little layering necklaces and any of those rings…please!
Also, from Lulu, I am loving these little stacking rings…
Another Lily Gray piece…I am not picky, any will do!
Or any of these great layering necklaces…(top) from Lulu (all others) from Three Bishops
What list would be complete without at least a few diamonds??  And so for the sparkle on my list…
This little diamond heart set by Ariel Gordon…
one for me and one to give a away…my mom??  the girls??  many options.
And last but certainly not least…The Woods, of course!  Small ivory beads with rose cut diamonds…a girl can dream!
So, come on by to make your own little list and tell your guy that we are here to help!
Stay tuned for Joanna's Wishlist on the next post…
OPEN:
Monday – Wednesday – Friday
10 a.m. – 3 p.m.
AND
The Guys Shopping Night
Thursday, December 13th
4-7 pm.  
Time to grab your warmest knits and bundle up because…
It's a perfect day for…
a cozy knit…
skinny jeans or leggings
and tall boots!
This look looks great on Kate Hudson and would be darling on you too!
In Other News…….
We should mention we have some great SALE items!
There are some really great pieces on markdown…and all are at LEAST 40% off.
OPEN:
Monday – Wednesday – Friday
10 a.m. – 3 p.m.
AND
Don't forget to make your wishlist and to tell the guy in your life about the
Guys ONLY Shopping Night
Thursday, December 13
4-7 p.m.
Skinnies and Stilettos
Can something so easy be that chic?  Why yes!  We love that all you need is our favorite wardrobe staple – the skinny jean – and a pair of fab little heels and voila!  you are good to go!
Black jeans, black shoe…..easy as pie and perfect for that happy hour or casual dinner
All grey with a red shoe…
Here's your basic denim with a little cuff…and yes,  it's december,  but with this weather, go for the open toe!
Grab a blouse from Equipment – yes, we have them! – cuff your jean and throw on a heel….5 minute outfit!
How darling is this pairing?  Love the bright pink!
We have tons of denim in the store right now from DL1961, JBrand and Current Elliott.
Not to mention a new shipment of our favorite Equipment tops!
Stop by and we'll show you just how easy this look is!
We Are Open
MON – WED – FRI
10-3
STORE HOURS:
New Hours:
Monday THRU Friday
10 - 3
New Location:
5109 Pershing Ave.
Fort Worth, 76107
New phone:
817-862-7466
youareherefw@gmail.com
GET EMAIL UPDATES!
Here We Are