Browsing articles from "April, 2013"
These last few mild days have put us both in spring cleaning mode!  We have each seriously edited and seasoned our closets and this got us thinking…
"What would our dream closets look like?"
Bright and colorful like the closet of Lori Levine…and yes, we will take everything in it.
Or perhaps a whole room, with a fireplace (but of course!).  Yes, Jenna Lyons is one lucky girl!
Or maybe something more structured where everything has its own space.  While Nate Berkus designed this space for a man I think we can all agree it would look amazing with fabulous handbags & pumps in leu of the manly duffles and loafers…
Or possibly even more sleek and modern like this serene space designed by Powell & Bonnell.
And in conclusion, because no discussion on closets would be complete without discussing the iconic closet of Carrie Bradshaw, maybe one that is just filled with anything and everything that you love!
We couldn't agree more, Carrie!
OPEN:
Monday – Wednesday – Friday
10 a.m. – 3 p.m.
A big thanks to Indulge magazine for featuring some great pieces from YAH in the April spread Petal Power!
We are huge fans of the florals (if you missed our earlier post – or just need a refresher – on floral pants click here) and were thrilled to see some of our favorites styled so beautifully.
Like this dress from designer Corey Lynn Calter…
and these darling little pants also by Corey Lynn Calter…
and also featured (but not floral) this jacket in a beautiful metallic ivory by Tracey Reese…
it's lady-like and edgy at the same time…perfect for toning down those bold prints and colors.
In addition to these great floral pieces we have some floral new arrivals from Haute Hippie (this print is also available as a silk jacket).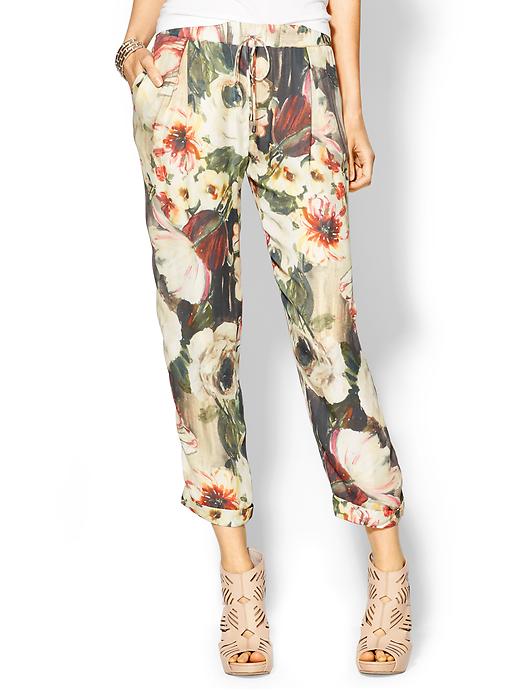 So don't wait for someone to bring you flowers…come on in and pick some up!
OPEN:
Monday – Wednesday – Friday
10 a.m. – 3 p.m.
We loved the article in the April issue of 360West  about mixing it up and going bold with your patterns and prints.
We are especially  fond of these two photos!
(expertly taken of the actual magazine via our phone…we are nothing if not professional!)
We can't get enough of  these darling black & white pants from Waverly Grey.  Comfortable and flattering…can you ask for more?
And this dress from Australian designers Camilla & Marc is fun and edgy without being too over the top.
(And P.S…both of those darling items can be found at You Are Here…smile!)
And, if you want a little more inspiration for boldly mixing it up a bit, here you go….
So, have some fun, take some chances and mix things up a bit!
Love the idea but need a little help?
Never fear!  We have got great pieces to get you started – fun scarves, florals and bold prints in both tops and bottoms, and animal print blouses  (after all an animal print is one of the best neutrals and a great starting point for pattern mixing).
And, as if you need more incentive to come by and see us, we have some great new arrivals this week:
Gold Hawk, Splendid, Fluxus, Current/Elliott, Gypsy jewelry, The Woods Fine Jewelry,  as well as some fun colored denim from DL1961.
OPEN:
Monday – Wednesday – Friday
10 a.m. – 3 p.m.
That today's going to be a good day!
It's April Fools' Day: May all your pranks bring joy and smiles!
OPEN:
Monday – Wednesday – Friday
10 a.m. – 3 p.m.
STORE HOURS:
New Hours:
Monday THRU Friday
10 - 3
New Location:
5109 Pershing Ave.
Fort Worth, 76107
New phone:
817-862-7466
youareherefw@gmail.com
GET EMAIL UPDATES!
Here We Are