Browsing articles from "May, 2013"
It's the LAST day of our 25% off store wide sale!
We have had great response to our post Memorial Day promotion but don't worry if you haven't made it by yet there are still some really great deals to be had!
Come by and see us we are
OPEN THIS
SATURDAY!
10 a.m. – 3 p.m.
It's Day 2 of 3 for the…
Run, don't walk to come on by to check out the deals!
OPEN:
Friday & Saturday
10 a.m. – 3 p.m.
image via
Ok, you have known us girls long enough to know that we are not ones for following the "rules" of retail…
While everyone else was having their big Memorial Day blow outs last week, WE have decided to bring it to you THIS week!
So, here's the deal:
For 3 days ONLY
Wednesday, Friday & Saturday…yes, we are OPEN this Saturday
we will take 25% off your entire purchase!
Now for the fine print…the good news is, that this includes any already marked down merchandise…the bad news is, that this does
not include  jewelry…sorry!
And, for our visual learners…
OPEN:
Wednesday – Friday – Saturday
10 a.m. – 3 p.m.
We are CLOSED today (Monday)
for Memorial Day
BUT, when we open on Wednesday…
 Stay tuned for more details…
Happy Memorial Day!
Wishing you a happy long weekend full of fun times with friends and family!
Please note…We will be CLOSED Monday for Memorial Day!
OPEN:
TODAY – Friday
10 a.m. – 3 p.m.
PS.  if you love this little print…it is available for sale at Ecojot.
Day 3 of 3
trunk show
Wednesday, May 22nd
10 a.m. – 3 p.m.
Being around all these beautiful resort pieces from Sheridan French
has got us dreaming (operative word here)
about vacationing at a lovely resort like:
Como Shambhala Estate in Bali
or maybe…
or perhaps we will jetset off to…
and after we will hop aboard and head to…
Really…we want to go to there, all of them!!!
But alas, we will be sipping cool drinks poolside locally (for now) but looking resort fabulous in the pieces we have picked from Sheridan's line.
So, whether you are jetsetting luxury resort style (can we come with you?)
or laying a bit little lower,
stop by and see us…we can get you looking resort fabulous!
OPEN:
Monday – Wednesday – Friday
10 a.m. – 3 p.m.
Day 2 of our 
trunk show is today!
 Monday, May 20
10 a.m. – 3 p.m.
We have had a ball playing and seeing her gorgeous line in person!
We have our eyes on several pieces for ourselves but here the favorites for each of us.
Anne Walker's pick…
(In fact, she has already worn it!  Yes, kind of like a little girl that wants to wear her new finds out of the store…exactly!)
Styled it with a Splendid white tank and flip flops and a fabulous necklace from Gypsy.
It was easy, cool and effortless – just how summer dressing should be!
And now for Joanna's pick.
This would be great paired with flip flops for a more casual feel…
or dress it up by layering on The Woods Fine Jewelry:
So come on by today to pick your own favorite!
OPEN:
Monday – Wednesday – Friday
10 a.m. – 3 p.m.

Today
Friday, May 17
10 a.m. – 3 p.m
 is our trunk show for
In case you aren't familiar with this local talent here's a little bit about Sheridan…
image via Matchbook Magazine 
(the above link will take you to a great article about SF with lots of really fabulous photos!)
Design is in Sheridan French's blood. Inspired by her great grandmother, Sheridan, age 12, created her first ball gown and has never looked back. Sheridan has pursued her passion for design while studying in Europe for a Masters degree, both modeling on the runway and designing her own collections. Sheridan then cemented her fashion credentials in Prada's London Press Office.
Now back in her home town of Fort Worth, Texas raising a family of her own, Sheridan's lifelong dream of owning her own label was realized with the launch of Sheridan French, a chic line of womenswear that is a fusion of exceptional prints and classic, flawless design. Sheridan's garments reflect her eye for gorgeous textiles and a fresh, artistic approach to fashion design in the twenty-first century. By combining unique, hand-woven prints with timeless lines, the Sheridan French brand encompasses a truly vibrant collection of wearable pieces (essential!) that are undeniably fun, effortlessly chic and made with your lifestyle in mind.
Sheridan's brand is a celebration of color and her own inimitable zest for life, and her wish for you is to feel as extraordinary wearing her designs as she has been enthusiastic in creating them, allowing your individuality to shine through.
Here's a little peak at just a few of her beautiful pieces that will be in the store today.
The trunk show dates are:
Friday, May 17
Monday, May 20 
&
 Wednesday, May 22
Hope you can stop by and support our local talent!
OPEN:
Monday – Wednesday – Friday
10 a.m. – 3 p.m.
Do you follow the blog Tuula?  If you don't, you really should check it out.
Jessica Stein, the beautiful and talented blogger, is inspirational and not only with her style but also her travels.  We are not sure if she ever stops… and we love living vicariously!
While we were on pinterest the other day, we came across this great look from Jessica and just had to share.  Not only because she looks amazing, but we have this entire look in the store!
Love it too?  Here's how we can help you get it…
Jeans – Current/Elliott or JBrand distressed skinnies…take your pick!
Tank – ALC (the exact one she is wearing)
Blazer – Smythe
Shoes – you are on your own there, but we know you have something fabulous in your closet.  And if not, Stanley Eisenmans is just a few doors down…
Voila…that was easy, wasn't it?
In other news….
SAVE THE DATE!  
We are having a trunk show for Sheridan French this Friday, May 17th.
This Fort Worth gal designs beautiful pieces…just what you need to get ready for summer!
 Can you handle it?  It is summer perfection!
More details to follow…
OPEN:
Monday – Wednesday – Friday
10 a.m. – 3 p.m.
Black and white –
easy, season-less, simple, elegant and classic.
And if you are one who follows trends…black & white is right on trend for Spring 2013…although it seems pretty silly to say because, really…
Does black & white ever go out of style?
We think not!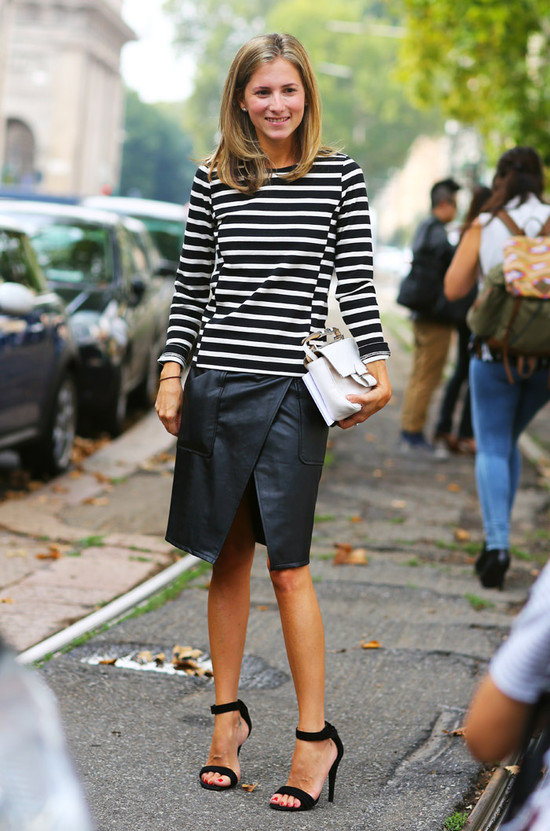 We've got gorgeous black and white pieces in the store right now –
from ALC, Equipment, Haute Hippie, Yoana Baraschi, Splendid, Ramy Brook
OPEN:
Monday – Wednesday – Friday
10 a.m. – 3 p.m.
STORE HOURS:
New Hours:
Monday THRU Friday
10 - 3
New Location:
5109 Pershing Ave.
Fort Worth, 76107
New phone:
817-862-7466
youareherefw@gmail.com
GET EMAIL UPDATES!
Here We Are