Browsing articles from "March, 2014"
What a beautiful weekend – we have a major case of spring fever!
And that's a good thing because the store if FULL of gorgeous new spring arrivals that we have been dying to get in!
One of our new arrivals is a classic pair of white shorts…not cut offs (although, we love those) but a real short like this:
So, if you, too, are looking for a great classic short, come on by!  We've got a great one by Giada Forte that you need to try!
OPEN:
Monday – Wednesday – Friday
10 a.m. – 3 p.m.
Friday
10 a.m. – 3 p.m.
is the day to
Shop for a Cause!
 We will be donating a portion of today's sales to Cook Children's Cancer Center.
So, help us by spreading the word and shopping for a great cause!
OPEN:
Monday – Wednesday – Friday
10 a.m. – 3 p.m.
Wacky Hours Alert!!
Due to some scheduling difficulties,  we will open late today!
Please note our hours for Wednesday, March 26th !!    

11:30 – 3
and now, for our feature presentation…
We are so excited to let you know about a new local shopping app we've joined called House Account!
House Account hand-selects the best local boutiques, designers and artists selling clothing, jewelry, art and home accents. You can download the app for free from the App Store and shop You Are Here from your iPhone!
 We know our hours are not the best for everyone so we are excited to bring you You Are Here on your hours!
Once you download and register, the app will bring up all the best local stores, designers and artists surrounding you, based on your proximity. Follow You Are Here and photos of our current merchandise will appear in your feed. When you see a photo of something that interests you, you can "like," comment, or even click the "Buy/Chat" button to text directly with us  to help you purchase the item, put it on hold, or just get more info.
Here's a little screenshot of our feed to give you an idea:
Download House Account for FREE from the App Store here: https://itunes.apple.com/us/app/the-nearby/id578248659?mt=8
We think this is a great idea and are excited to be a part of it!  We hope you will join us!
And of course, for those of you who need a little technical guidance (we are those people ourselves) come on by and we can walk you through the whole process…it's really simple!  Trust us,  if we can figure it out anyone can figure it out!
And don't forget…
Shop for a Cause
benefiting Cook Childrens Cancer Center event this Friday!  
Please help us spread the word and support an amazing cause!
So much going on…we love it!
OPEN:
 Wednesday  11:30 – 3   &  Friday  10 – 3
Shop for a cause this
Friday, March 28
10 a.m. – 3 p.m.
This Friday we will donating a portion of the total day's sales to
Cook Children's Cancer Center.
We are so inspired by Alexa Sankary's passion for finding a cure for neuroblastoma that we wanted to do something to help out.
And with The Blast Annual Run/Walk this Saturday we thought this Friday was the perfect day!
While neuroblastoma is rare, unfortunately neither of us had to go very far to find a family who had been affected by this disease.
So,please join us to help raise money and awareness for this amazing cause.
Whether you sign up for the walk, tell a friend about our event or donate directly we hope that you will find some way to participate and help us spread the word!
OPEN:
Monday – Wednesday – Friday
10 a.m. – 3 p.m.
Want to learn more about neuroblastoma and other people's stories here are some links.
Where you can sign up to participate in the walk.
An article about Alexa Sankary
A dear friend of Anne Walker & Chris' whose son, Charlie, was diagnosed with neuroblastoma.
Our local heroes helping to fight and find a cure for neuroblastoma and the many other disease that affect children.
Today is the day for our
TRUNK SHOW!
Today
10 a.m. –  3 p.m.
Plus,
Many, many new arrivals this week!
Lines you already know and love:
Current/Elliott, Elizabeth & James, Goldhawk, Ulla Johnson, & DL1961
As well as lines that are new for us but soon to be loved too!
The Podolls (top) and Melissa Braniff (necklace)
As well as some fun clutches and accessories.
Clare Vivier
and the perfect wallet/clutch from 49 Square Miles
 So much to see!
Come by to say hi!
OPEN:
Monday – Wednesday – Friday
10 a.m. – 3 p.m.
all photos via our Instagram
SAVE THE DATE
for
Friday, March 21
10 a.m. – 3 p.m.
trunk show!
THE SIX1FIVE STORY
Cissy and Emily connected over a sushi dinner organized by their husbands…two minds, two totally different talents. Emily had a brilliant idea, but she needed Cissy to help her execute. Cissy designs and creates, but she needed Emily to run the business. Naturally, a fast friendship was born.
Both born in November, the Scorpios decided to have some fun with their birthdates. November 6 + 15 make the label's name SIX1FIVE, established in the fall of 2012. The duo launched their first collection redesigning furs, vintage silks and military-inspired fabrics into stylish vests, jackets and handbags with a modern flair. The SIX1FIVE collection continues to thrive on designing unique pieces to reflect their creators' personalities: fun + different + stylish with a twist.
 Each item is one of a kind; to add an extra personal touch, Cissy handpicks vintage silk to line the handbags. The collection is made to order to allow clients to select from a palette of colors and make each piece exceptional, different and (best of all) their own.
Cissy and Emily will be in the store Friday to help you create your own one of a kind piece.
We can't wait to see what they bring with them.
Come by to see us!
OPEN:
Monday – Wednesday – Friday
10 a.m. – 3 p.m.
Brand new from
Smythe les Vestes!
The boy blazer in flamingo pink!
We love this little pinky and all the many ways you could style her!
Super casual…
or  a bit more refined…
or maybe night on the town style…
No matter where you are going this one will take you there in style!
OPEN:
Monday – Wednesday – Friday
10 a.m. – 3 p.m.
There is so much to take in…the apartment, her style, everything!
)
Enjoy!
OPEN:
Monday – Wednesday – Friday
10 a.m. – 3 p.m.
Everybody knows that spring weather in Texas is like a roller coaster ride –
UP one day and DOWN the next!
But no worries, we can help you manage the weather's ups and downs with this –
Current/Elliott Infantry Jacket.
It's the perfect light layering piece for the cooler spring days.
And we aren't the only ones who think this little cutie is a must have -from fashionable socialites to celebrities to bloggers – we can all agree this is a must have!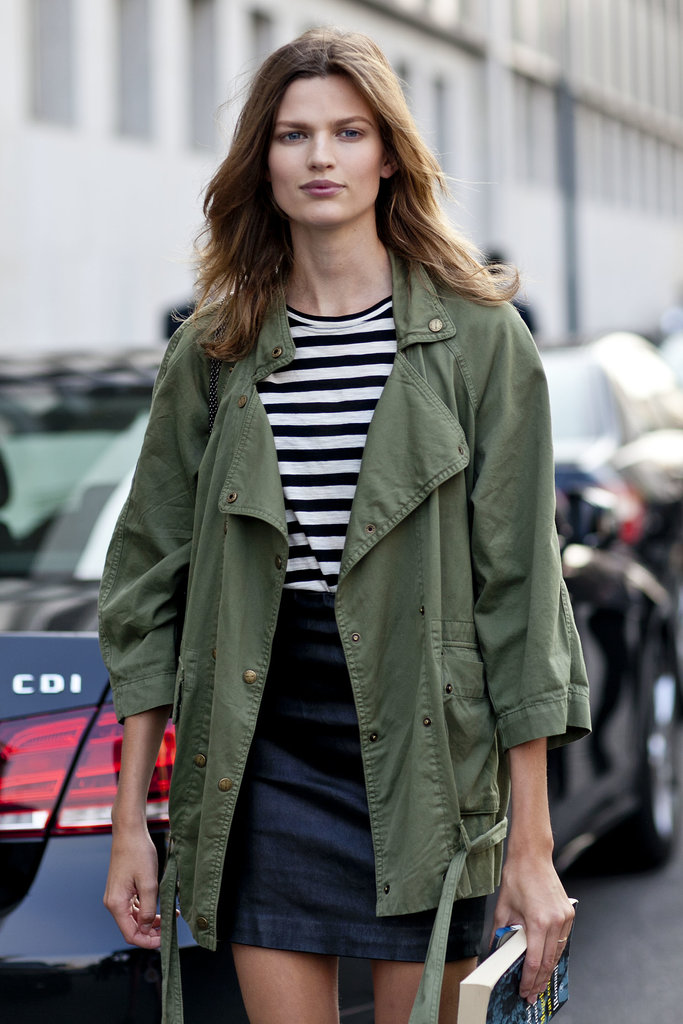 So don't miss out!  We only ordered a few so you might just want to march on in and pick one up for yourself!
OPEN:
Monday – Wednesday – Friday
10 a.m. – 3 p.m.
Do!
Come by …lots of interesting things to look at!
OPEN:
Monday – Wednesday – Friday
10 a.m. – 3 p .m.
STORE HOURS:
New Hours:
Monday THRU Friday
10 - 3
New Location:
5109 Pershing Ave.
Fort Worth, 76107
New phone:
817-862-7466
youareherefw@gmail.com
GET EMAIL UPDATES!
Here We Are