The Guys Shopping Night is tomorrow (Thursday) night 4-7 pm.  
Have you made your wishlist?
We have!
We have been putting together our very own little wishlists for those special somebodies in our lives and here's a little peek…
On Anne Walker's wishlist (and in no particular order)…
This scarf by We Are Owls.
The colors are amazing.  And seriously what wife wouldn't love getting this from her husband…hint, hint, Chris…are you listening?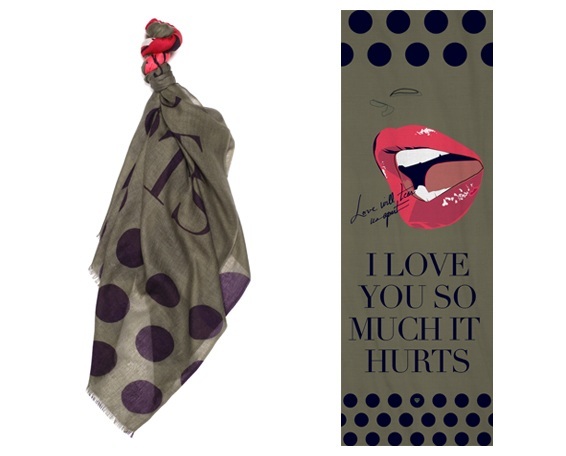 The Presmer python clutch…in any color but I think navy is my favorite.  A classic clutch in a classic color – a must have!
And because I have never met a blazer that I didn't fall in love with…I must add this little cutie to the list!
PS – this new arrival from Tracy Reese was delivered to the store yesterday while we were there taking these photos – so it is straight from the box and on to my list!  And I will take the Ramy Brook silk halter too to go with…just to complete the look!
And now, on to the jewelry…the jewelry part of my list goes on and on but I will spare you and will only list a few here.
Some new arrivals from San Francisco jewelry designer, Lulu are on the list.  Either of these darling little layering necklaces and any of those rings…please!
Also, from Lulu, I am loving these little stacking rings…
Another Lily Gray piece…I am not picky, any will do!
Or any of these great layering necklaces…(top) from Lulu (all others) from Three Bishops
What list would be complete without at least a few diamonds??  And so for the sparkle on my list…
This little diamond heart set by Ariel Gordon…
one for me and one to give a away…my mom??  the girls??  many options.
And last but certainly not least…The Woods, of course!  Small ivory beads with rose cut diamonds…a girl can dream!
So, come on by to make your own little list and tell your guy that we are here to help!
Stay tuned for Joanna's Wishlist on the next post…
OPEN:
Monday – Wednesday – Friday
10 a.m. – 3 p.m.
AND
The Guys Shopping Night
Thursday, December 13th
4-7 pm.  
STORE HOURS:
New Hours:
Monday THRU Friday
10 - 3
New Location:
5109 Pershing Ave.
Fort Worth, 76107
New phone:
817-862-7466
youareherefw@gmail.com
GET EMAIL UPDATES!
Here We Are