Browsing articles in "April"
We love this!
Quit saving those beautiful pieces for a special occasion – today is special!
And if you feel like you need a little something special, come on by –  we are open today with so many special pieces in the store!
OPEN:
Monday – Wednesday – Friday
10 a.m. – 3 p.m.
Looks like the next few days are going to feel more like summer than spring and that has us getting out our shorts!  Today,  we are looking to some of our favorite fashion girls for inspiration on how to style our shorts from day to night.
One of our favorite looks is styling shorts with a nude bootie (the ones in the photo are Rag and Bone and a favorite around here).  A nude bootie is the perfect touch for taking your shorts from run around daytime-y to a more polished look.
 Here, Jennifer Aniston is casual but still put together – a cute tee & easy accessories.
And speaking of her great accessories, Jennifer has accessorized her day shorts outfit with a new found favorite jewelry line of ours….
Jacquie Aiche Blesslev pouch necklace.
We still have a few in the store – they are the perfect summer accessory!
We love this mix of the tailored shorts with the slouchy "sweatshirt" & clutch.
And for those days when you are beachy chic…take inspiration from Gwyneth's easy natural shorts style.  We just happen to have a darling navy and white sweater from Splendid and cut-offs from Current/Elliot to complete this look.
When you need a little bit more, but still want to look laid back and effortless,  try pairing a blazer & tee with your cut-offs.
Christine Centenera, Vogue Australian fashion editor, looks amazing and super chic in her all black shorts ensemble…
and here she is in cut-offs with an embellished blazer…we are kind of dying over this little number!
And of course, Olivia Palermo, the fashion girl that can do no wrong!  What would a blog post be without some fashion inspiration from Olivia??
Love this night time look with black leather shorts, a lady like blouse & amazing accessories…
Daytime OP doing a little shopping in her shorts and flats…
We especially love it when a look can go day to night with just a few minor changes.  Yes, this is the same blouse as above…tucked in and paired with a tailored short and some major accessories.  Now OP is ready for a night on the town.
Another great daytime style with chambray shorts, a colored top and layered accessories…
Black and white with a blazer…classic and chic.
And finally OP in "cheetah" shorts…yes, we brought you these darling Tibi shorts last spring but don't worry if you missed them – this spring we are bringing you a new "cheetah" short from Haute Hippie – they are in the store now and are darling!
So, whether you are running around with flip flops and shorts during the day, or glamming it up for a night on the town…we have great shorts, tops & accessories to help you put together some fabulous looks.
OPEN:
Monday – Wednesday – Friday
10 a.m. – 3 p.m.
(Christy Turlington captured by Pamela Hason)
First off, the newsy news!
1.  We will be OPEN this Saturday, April 13 10 a.m. – 6 p.m.  to take part in the Sip, Savor and Shop Camp Bowie.  
This is the first year for this event and it sounds like a blast!  We've heard there will be live music, lemonade stands (some even with a little Enchanted Rock vodka), wine tastings, food, sidewalk sales…plus, it looks like the weather is going to be gorgeous, so why not get outside and do some local shoopping!
Want to learn more about the event?  Click here.
So, if you or any of your friends wish we were open on Saturdays…here's the chance to do some Saturday shopping!
And feel free to help spread the word…we always appreciate a forward or share!
2.  In preparation for the Saturday sidewalk sale we will begin marking down today…that means this is your chance as a loyal follower and reader to have a first look at what we are putting on sale today and Friday.  (you are such an insider!)
And now to a new arrival…
Ulla Johnson – we have been anxiously awaiting the arrival of this delivery and we must say, it does not disappoint!
and there's more,  so come by to see for yourself…it is summer dressing perfection!
OPEN:
Monday – Wednesday – Friday
10 a.m. – 3 p.m.
and 
this Saturday ONLY
10 a.m. – 6 p.m.
A big thanks to Indulge magazine for featuring some great pieces from YAH in the April spread Petal Power!
We are huge fans of the florals (if you missed our earlier post – or just need a refresher – on floral pants click here) and were thrilled to see some of our favorites styled so beautifully.
Like this dress from designer Corey Lynn Calter…
and these darling little pants also by Corey Lynn Calter…
and also featured (but not floral) this jacket in a beautiful metallic ivory by Tracey Reese…
it's lady-like and edgy at the same time…perfect for toning down those bold prints and colors.
In addition to these great floral pieces we have some floral new arrivals from Haute Hippie (this print is also available as a silk jacket).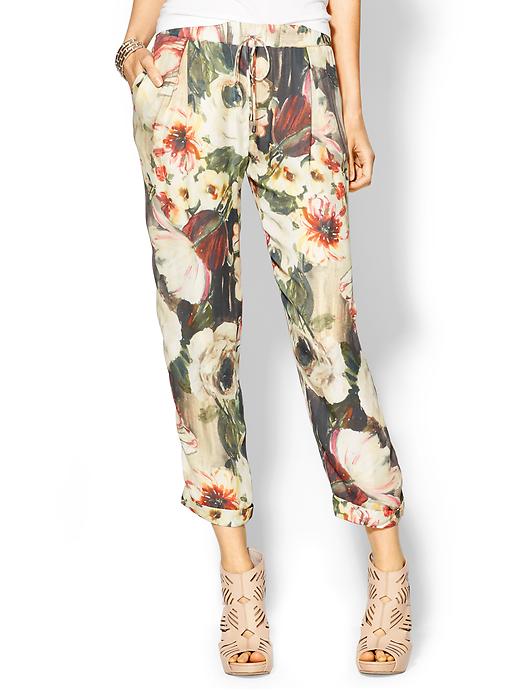 So don't wait for someone to bring you flowers…come on in and pick some up!
OPEN:
Monday – Wednesday – Friday
10 a.m. – 3 p.m.
We loved the article in the April issue of 360West  about mixing it up and going bold with your patterns and prints.
We are especially  fond of these two photos!
(expertly taken of the actual magazine via our phone…we are nothing if not professional!)
We can't get enough of  these darling black & white pants from Waverly Grey.  Comfortable and flattering…can you ask for more?
And this dress from Australian designers Camilla & Marc is fun and edgy without being too over the top.
(And P.S…both of those darling items can be found at You Are Here…smile!)
And, if you want a little more inspiration for boldly mixing it up a bit, here you go….
So, have some fun, take some chances and mix things up a bit!
Love the idea but need a little help?
Never fear!  We have got great pieces to get you started – fun scarves, florals and bold prints in both tops and bottoms, and animal print blouses  (after all an animal print is one of the best neutrals and a great starting point for pattern mixing).
And, as if you need more incentive to come by and see us, we have some great new arrivals this week:
Gold Hawk, Splendid, Fluxus, Current/Elliott, Gypsy jewelry, The Woods Fine Jewelry,  as well as some fun colored denim from DL1961.
OPEN:
Monday – Wednesday – Friday
10 a.m. – 3 p.m.
Abi Ferrin Trunk Show
Thursday, May 3rd
12:00-3:00 p.m.
(we are open 9:30-5)
We are so excited to bring you Dallas designer, Abi Ferrin.  Abi's designs are versatile and made to make you feel confident and beautiful…who doesn't want that?  The versatility is shown above in her signature 5 way dress – you could pack that dress and a pair of jeans for a trip and have multiple outfits out of just 2 pieces!  We think that is pretty much perfect considering summer vacation and travel that is quickly approaching.
Come on by tomorrow (Thursday 12:00-3:00 p.m.) to see the 5 way dresses in person and get a lesson on the many ways you can wear them!
While on pinterest this week (a favorite past time for both of us!) we came across these darling pictures of Kate Middleton looking fabulous in some peachy jeans.
And lucky you…we have some darling DL1961s in peach that just arrived!
[ Chris Jackson/AFP/Getty Images]
So excited that new shipment from DL1961 is in!
The box restocked us on our colored denim (bright blue, hot pink & bright yellow)
and included 2 new colors – sherbert (peach) & seaglass (blue/green)…both are gorgeous!
And we still have the jewels from Kori Green thru Saturday.
She has some great necklaces and earrings that would be darling with your new peach jeans!
We are open:
Friday 9:30 – 5
Saturday 10 – 3
This Wednesday we are bringing you MORE fabulous jewels… via the talented Kori Green!  
She has been busy at work and we can't wait to see what she brings us.  We have not seen the new pieces in person yet so Kori snapped a couple of pictures on her phone for a little sneak peak!  One thing is for sure…whatever she brings will be fabulous.   (as it always is!)
If you have been to a Kori Green trunk show before then you know her stuff moves fast…and if you haven't,  consider this your notice – pieces will be moving quickly!
This week we are open:
Wednesday 9:30 a.m. – 8 p.m.
(Kori Green Trunk Show 11 a.m.-2 p.m. & 5-8 p.m. for happy hour shopping)
**jewelry will be available 2-5 p.m. – above are the times that Kori will be in the store with the jewelry
Thursday & Friday 9:30 a.m. – 5 p.m.
Saturday 10 a.m. – 3 p.m.
So,  ya'll know what HUGE fans we are of this jewelry line……well,  we are bringing it in for a Spring Trunk Show!
Wednesday, April 18th – 5pm to 8pm
The Woods Fine Jewelry is the collaboration of Colorado based sisters Samantha Hitchcock and Shawn Hecox.   This talented design duo is known for the way that they juxtapose natural elements like wood, ivory, horn and tahitian pearls with rough, mine-cut diamonds.  The result is a collection that is at once simple, earthy and unfussy yet completely elegant.  We can't get enough of these pieces that look fantastic worn together in multiple layers and often stack as many of their stretch bracelets as we can fit!
We can't wait to show you what they have sent us!  Ladies…….don't forget that Mothers Day is right around the corner!  We are more than happy to make calls to those darling husbands that might be at a loss for what to give!
See ya'll on Wednesday!
This week we are bringing in a DIY project – hair ties!
We love hair ties and we love a DIY so we were thrilled when we came across gorgeous hair tie fabric by the yard…the perfect project!
Single hair ties: $1.50 
or 
10 ties for $10
We open again on Wednesday at 9:30 so come by then to get your DIY on!  (
And don't worry…if you aren't a DIY kind of girl we will have some already made and ready to go for you!)
Hours this week:
Wednesday 9:30 a.m. – 8 p.m. (happy hour shopping starts at 5 p.m. with trunk show from Koch read more about the line here!!)
Thursday & Friday 9:30 a.m. – 5 p.m.
Saturday 10 a.m. – 3 p.m.
STORE HOURS:
New Hours:
Monday THRU Friday
10 - 3
New Location:
5109 Pershing Ave.
Fort Worth, 76107
New phone:
817-862-7466
youareherefw@gmail.com
GET EMAIL UPDATES!
Here We Are