Browsing articles from "September, 2012"
Monday, October 1st
11 – 2
Stop by and meet designer Lily Gray of
Gold & Gray jewelry
We have been LOVING her jewels since we opened,  and they sure don't seem to stick around too long!  No big surprise…they are all beautiful!
Here are some of the new pieces Lily will be bringing with her for the show.
Pyrite beads with diamond crescent…
pyrite beads with gold spike…
labradorite with gold arrowhead…
labradorite with geode…
grey wood and pearl with druzy…
wood bead bracelets with fun tassels…
Not only is she an uber talented jewelry designer but she also has a fabulous blog…check it out here.  We are thrilled to have Lily here all the way from L.A. (she is originally from Fort Worth!)…so come by to see the beautiful Gold & Gray jewelry in person!
Open
Monday – Wednesday – Friday 
10 a.m. – 3 p.m.
We love the Current/Elliott cargos and…clearly we aren't alone!
Leighton Meester is a happy girl…probably because she is sporting those cute little skinny cargos!
Sheryl Crow looks a little more serious in her cargos…but then again, a morning coffee is a serious business!
We have a few more pairs of the C/E cargos on the floor…but they are moving fast!
Open Friday 10 a.m. – 3 p.m.
Growing up in the 70's,  it's hard not to be taken back to our childhoods at the mere mention of the iconic fashion label Halston – the first great American designer.
And we are so excited to be bringing Halston Heritage to you for fall 2012.  While the designs are new – the signature style is still there – beautiful draping, classic tailoring, one shoulder glamour, elegant halters and of course, sleek jumpsuits.  The line is gorgeous…the epitome of modern day glamour!
So…what's this new delivery??  Here's a little peek at a few of the styles that we have in:
a black wool jersey dress with brown leather detailing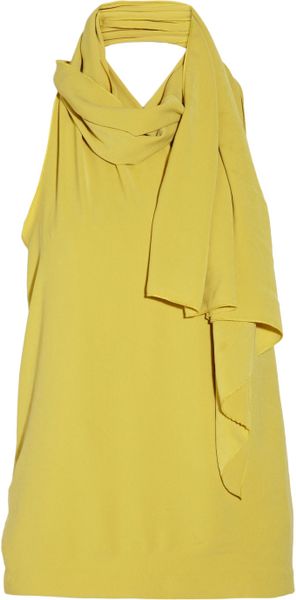 chartreuse draped crepe top
black jumpsuit
Just look at how darling Rose Bryne looks in her Halston jumpsuit!
We are open
MONDAY – WEDNESDAY – FRIDAY
10 a.m. – 3 p.m.
New boxes…just in!
1.  DL1961
6 new styles – black, dark denim, camel, navy wax with leather, deep brown with zippers – just to give you an idea…
2.  Equipment 
The new styles we received are gorgeous…as always, from a staple black silk blouse to a navy sheer blouse with gold detailing.
We aren't the only ones who love the ease of the Equipment line…Equipment was all over New York Fashion Week seen on some the fashion industries top "it girls"!
And for a little more Equipment fun…check out this fun video collaboration from Garance Dore & 7 of the top fashion ladies to see how they wear Equipment…we are thrilled to see that several of our picks for the store are featured!
3.  Kain label
In our box from Kain is the dress below (but in black) featured on the Zoe Report and if Rachel Zoe doesn't know style…who does?
And some great black silk pants…featured in the October issue of Marie Claire…they are pretty amazing!
And this is just a little taste of what's new for this week!
Come see us…
Monday – Wednesday – Friday 
10 a.m. – 3 p.m.
or by appointment
(e-mail youareherefw@gmail.com to schedule private shopping appointment)
One of our favorite past times is cruising pinterest (click through to our You Are Here boards).  While on pinterest, we are looking at all kinds of beautiful things – recipes, interior design, style, parties…but our main focus is fashion and what the cool kids are wearing.  For some reason every time we see pictures of one of our favorite fashion girls, Olivia Palermo (OP…get where we are going here???) we can't help but hear the old  (but we are not saying good) song "You Down with O.P.P.?" in our heads!
And so we ask you…are you down with O.P.?
Whether she is out on the town…
out for coffee…
post workout…
at an event…
riding a bike…
or just standing around…
She is, in a word, impeccable.  She  seems to strike that perfect balance between ladylike and edgy…
We think O.P. has got some serious style!  Thanks for inspiring us!
stop by and see us!
MONDAY – WEDNESDAY – FRIDAY
10-3
Added bonus!!!  We are open this Saturday, September 22nd 10 a.m. – 3 p.m.  
We planned to do this post on Monday but we have been so busy (not complaining one bit!) that we are just now getting this one out!  New boxes are arriving weekly and we have promised to keep you posted!
Erin Fetherston is in….this darling LBD is in the store along with the coolest little boyfriend sweater – no photo but picture this…heather grey with rhinestone bow buttons – the perfect mix of boyfriend slouch and girly sparkle!
Gold Hawk – you know how we love us some Gold Hawk and this box does not disappoint!  When we opened it we found gorgeousness in the form of: oversized turtleneck sweaters; a lace print blouse; a feather skirt (yes, you heard us right…a feather skirt!)…it's all fabulous!  Sorry no photos for this one but trust us when we say it is worth a look!
Yoana Baraschi – We love Yoana Baraschi's attention to detail – we have pencil skirts with unique detailing, beading on tops that shimmer like liquid and prints with colors that are amazing.  This navy feather print dress is perfect!
PS….the black and white blanket print jacket with leather shouder detail is on the way too!
This is just a sneak peek…So come on by to say hi and see what's new for this week!
WE ARE OPEN
MONDAY – WEDNESDAY – FRIDAY
10 – 3
We are loving our new shoes from Plomo!
If you aren't familiar with the Plomo brand – here is a little scoop.  The company was founded by two friends and their "undeniable, uncontrollable love for shoes"!  In addition to their shared love of shoes, these two also share a fondness for travel and adventure.  So much so…they went cruising Mexico City on their vintage bikes, exploring the flea markets and taking in the sights.  Inspired by their adventures, they decided to take it to the next level and turn their passion and into their reality.  They completed their first collection in 2008,  and in 2010,  Plomo was born.
Say hello to this little stunner!
This perfect flat bootie goes with everything and is right on trend!
We are crazy about the line and think that these two ladies are a bit of an inspiration…two girls, one crazy idea and lots of laughs…sound familiar?
We love that it is feminine and sexy with a rock 'n roll edge.
Both styles are in our store now…both are gorgeous!
MONDAY – WEDNESDAY – FRIDAY
10 a.m. – 3 p.m.
We opened the store with several new lines and one of our favorites is Current/Elliott!  Designers Emily Current and Merritt Elliott have created a line that is comfortable, wearable,  cutting edge  (yes, they started the whole "printed denim" trend) and always classic.  If you aren't already familiar with the line, we know that you will LOVE it like we do!
One of our favorite pieces is the Snap Jacket.  First of all,  who doesn't love a denim jacket?  It is such a wardrobe staple – the perfect "go-to".  We love that it can be worn a million different ways and never quite look the same!  If you don't already have this classic, this one from C/E  is one to take a look at.
Here is Reese…with her effortless yet classic style.  We love the way she mixes it up with her Current/Elliott Snap Jacket.
And Blake Lively shows us how to style the same C/E Snap Jacket with a little edge.  (p.s… we have some GREAT  short grey moto boots coming!)
And Katie Holmes…sundress + Snap Jacket + tan bootie = perfect transitional outfit for fall!
Come on in and grab one…while you can!
MONDAY – WEDNESDAY – FRIDAY
10-3
This may seem a little random but if you know me (Anne Walker) you know I love my college football!  And it is that time of year…time for a little college football!  This song takes me way back to my very own college days and always makes me think of "watching" the games and having fun with friends…good times!
http://www.youtube.com/watch?v=dVplCH93Jb8#
This season seemed to start with lots of changes and shake-ups.  One of which we are super excited about and that is TCU's inaugural season in the Big 12 Conference!  And as a result there are some great games on the schedule…we can't wait to see what the season brings!
Anywhoo…on to why I am really here – what to wear to those games!
Let's start with the obvious…jeans – and we have lots in – from waxy to basic denim – from DL1961, JBrand and Current/Elliot…something for everyone!
We have everything from basic tees to stunning silk blouses, scarves, jeans and jewelry in shades of purple from true TCU purple to lovely lavender.  We even have the gorgeous python clutch (yes, the one from the 360 West cover) in purple…it's pretty major!  Really, if it was purple (and fabulous) we bought it!
But here's a little sneak peek…
Equipment silk blouse in lavender.
These for a little sparkle…
In addition to the obvious TCU excitement, one of the big games on my radar this season is the Ole Miss vs. Texas game on September 15th.  As a graduate of Ole Miss I will have my rebels up and will be hoping for a win, but I know that the mighty Longhorns will have something else to say about that!
Now for tops…if you happen to be on the Longhorn side you might like:
Equipment signature blouse in chili
Or if you are on the Rebel side:
Navy & Red tencel plaid shirt from Rails. Shown with Current/Elliot navy waxy skinnies.
And while my beloved Rebels have had some struggles these past few seasons I know one area where we tend to take 1st place…tailgating.  So if you are lucky enough to go to the game in Oxford enjoy, because there is nothing quite like it!  And it isn't just me who thinks so.
Come on by while we are here today (Wednesday) 10 a.m. – 3 p.m. to see what we have for fall.
The weather will be changing soon and we want you to be ready!
If you haven't seen the September issue of Indulge…you really must check it out.  They did an amazing spread with some gorgeous clothes and accessories for the fall season.
Some of our favorites:  (all are from the store…in case you were wondering…smile!)
This gorgeous green and black silk dress from one of our favorite designers, Nieves Lavi is stunning!
A fun charm necklace by Beso Beso – perfect on its own or layered in with other pieces.
These army green rider leggings from Current/Elliot are amazing!
All of these pieces are in the store now along with other great fall merchandise so get on in here and take a look!
Our "regular" hours start this week…
We will be open
Monday – Wednesday – Friday         10 a.m. – 3 p.m.  
And don't forget, we are available by appointment if those times don't work for you.  Just drop us an email to schedule something that does.!
STORE HOURS:
New Hours:
Monday THRU Friday
10 - 3
New Location:
5109 Pershing Ave.
Fort Worth, 76107
New phone:
817-862-7466
youareherefw@gmail.com
GET EMAIL UPDATES!
Here We Are